News & Events
INSTRUMENTS OF CHANGE THIRD ANNUAL BENEFIT

OCT. 30TH, 6:30-9:30 PM, THE IMPERIAL, 319 MAIN ST., VANCOUVER
The Third Annual Instruments of Change Benefit will take place at The Imperial (formerly District 319, at 319 Main St), on October 30th, from 6:30-9:30 pm.    Featured performers include Shaun Verreault from Wide Mouth Mason, Liesa Norman and BeatThief, Mind of a Snail shadow puppeteers, Canadian Slam Poetry Champion RC Weslowski, and Kraftstein, with a film by Evann Siebens, and choreography by Natalie Gan and Company.   A feast for all the senses, this TD Bank sponsored evening also includes pan-Asian catering by Roaming Dragon and Okanagan wines from Foxtrot Vineyards. This interdisciplinary arts showcase plays with the theme of shape shifting, in the spirit of Halloween and the transformative nature of Instruments of Change's community art programs. Tickets $75, available at: instrumentsofchange.org/eventbrite.ca

A TD Bank Sponsored Event
We Are Here community mapping project celebration,
may 18th, 1- 3 pm, sunset community centre
Something Collective members have completed the soundscape, dance, puppetry, moss art, and video componsents of their multi-sensory community mapping project, which they faciliated with youth, seniors, immigrants, and pre-school students from the Sunset Community over this past year.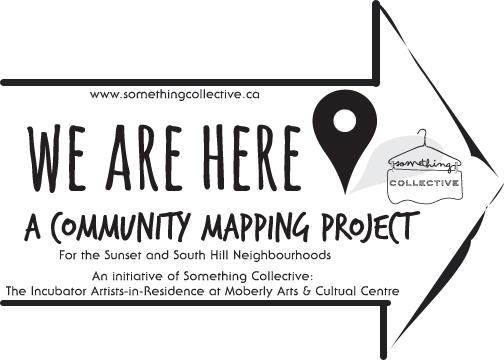 Instruments of Change artists, Something Collective, also Artists-in-Residence at SCC, have worked and played with community members in a variety of arts activities that map the sounds, people, growth, play spaces, and movements of the Sunset
Neighbourhood.
We Are Here has allowed community members to explore their neighborhood with all five of their senses.
Now, together, with your friends and neighbours, we'll get to walk through a giant interactive map as we celebrate all the finished components of the project.
Come and experience an interactive, living picture of the Sunset neighbourhood.

JOIN US FOR DANCE AND PUPPET PERFORMANCES, FILM AND
SOUNDSCAPE INSTALLATIONS, AS WELL AS FREE REFRESHMENTS!

This project is supported in partnership by the City of Vancouver, the Mobelry Arts and Cultural Centre, and th Sunset Community Centre.
ALPHABET STORIES SET TO LAUNCH AT SOUTH HILL LIBRARY IN EARLY FEBRUARY 2013
Something Collective members, Juliana Bedoya and Laura Barron, are soon to install the artistic results from their Alphabet Stories community engagements, which they led at the South Hill Library from Sept.-Dec. 2012.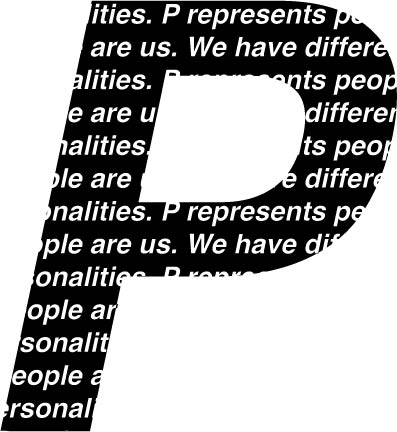 Through the Alphabet Stories project, Juliana and Laura asked South Hill residents how they wanted to dress the walls of their library to reflect the language of their community. Consquently, Punjabi students from the Khalsa school, as well as adults from the ESL and Book Club groups at the South Hill Library, created an array of text and art pieces which will be rendered as vinyl art that will live on the library walls. The final content has become an abecediary (alphabetized list) which includes concrete poems, odes to alphabetic letters, and alliterative pieces from the many alphabets present in the South HIll neighborhood. Appropriately, the Chinese, Japanese, Vietnamese, Punjabi, Cyrillic, and Roman alphabets are represented in this project.
Juliana and Laura also used a variety of movement-based exercises as faciltative tools. The photo below illustrates Khalsa school students with the word "spice", in Punjabi letters, tattoed on their palms, (using temporary markers), to summarize what this project means to the Sunset community.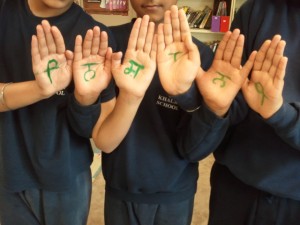 ART FOR IMPACT benefit event, saturday december 82012, 7:30 pm
Instruments of Change will be the fortunate beneficiary of Art for Impact's 9th fundraising showcase of interdisicplinary performances.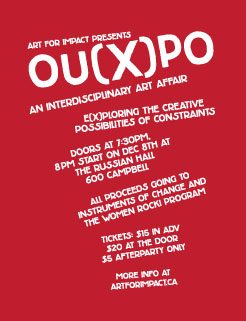 Art for Impact is pleased to present our ninth event: Ou(x)po
Saturday, December 8, 2012 - 7:30pm
The Russian Hall, 600 Campbell Ave, Vancouver
Get tickets now! http://inci.pe/ouxpo
Join us for our 9th event, Ou(x)po, exploring the possibilities found within creative constraints.
All proceeds are going to Instruments of Change and their Women Rock! program, a 12-week project for women in the BC prison system to gain self-empowerment through learning to play rock instruments, forming bands, managing gear and writing songs.
Ou(x)po invites guests to roam the building and enjoy the many pieces (ranging from classical music and dance to shadow puppetry, clown, film and beyond), all going on in unconventional locations.
Doors open at 7:30 (featuring an art auction and a pre-show by musician Angie Inglis), show starts at 8! There will be drinks available for purchase, and this year we're featuring an afterparty (10pm-midnight) featuring the awesome band Miss You in Tuques, and a raffle draw.
A limited number of advance tickets are available at $15, with general admission $20, and all proceeds supporting Instruments of Change.
something collective celebrates the completion of our footprint

Join us at Renfrew Community Centre, from 1-3:30 pm, Saturday, November 17th, to experience the culmination of our community mapping project.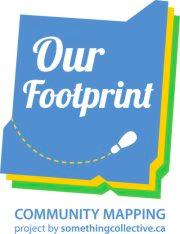 Enjoy dance and puppet performances, film and soundscape installations. Make your own moss art, and eat our celebration cake, too!
Something Collective, the Artists-in-Residence team, has worked and played over the last few months engaging community members in a variety of arts activities that map the sounds, people, growth, play spaces, and movement of the Renfrew/Collingwood Neighborhood.
"Our Footprint" has allowed community members to explore the Renfrew community in a whole new way. They have joined with each artist of Something Collective and explored their neighbourhood through dance, sound, video, green graffiti, puppets and photography.
Together, with your friends and neighbours, we'll get to walk through a giant interactive map as we celebrate all the finished components of the project. Come and experience a living picture of Renfrew neighborhood.

Visit: http://ourfootprintrenfrew.somethingcollective.ca/map-real/ to browse our digital interactive online map.
Yoga benefit event, Tuesday August 28th 2012, 7-9 pm
Instruments of Change will host a Yoga benefit event at the Sarah McLachlan School of Music, on August 28th, from 7-9 pm, 200-138 E 7th Ave.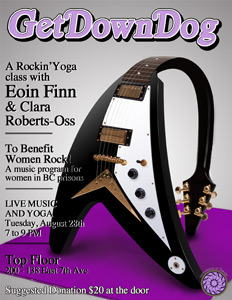 This rockin' routine will be led by Eoin Finn and Clara Roberts-Oss, two of Vancouver's most loved teachers.
The event will also feature live music and promises to be a wild time! Suggested donation is $20 at the door and all the proceeds will go towards our Women Rock! program which brings music education to incarcerated women in BC. If you want to learn more what this program means to the women who participate, please listen to this clip of a radio documentary from our highly successful 2012 pilot program.
Waldorf Rock Lottery, Jan. 29th 2012, 8 pm
Girls Rock Camp and Instruments of Change joined forces to produce the Waldorf's very first Rock Lottery, on Sunday, January 29th at 8 pm.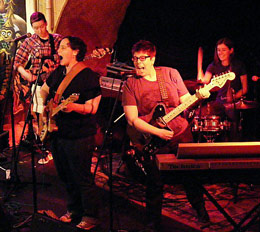 We mashed-up-up twenty of Vancouver's hottest musicians into five completely new bands, and then gave them only 24 hours to create an original 15-minute set for the show. It was a little wild, a little loud and a lot of fun! The show featured the looping magic of The Cruz Brothers; performance maven prophecy Sun and Fellow Tyranahorse member, Darren Fleet; the ubiquitous Chris-a-riffic on the keys; rapper Rup Sidhu; the sultry pipes of Dominique Fricot; guitarist/singer/songwriter, Jenny Ritter of the recently parted band, The Griffs, and more.
This awesome event raised the necessary funds for our Women Rock! program which we launched in March, at a BC women's prison. This 3-month pilot program will teach women, with little to no musical experience, how to play durms, keys, guitar, and bass. They will also develop song writing skills and the program will conclude with a Showcase on June 7th in which the women will jam out to their own original songs.
Community Mapping Projects at Sunset and Renfrew Community Centres
In 2012, Something Collective's primary community engagement in the Sunset neighborhood will be the development of a community-mapping project. We Are Here, will interact with the public using a a multitude of artistic mediums to "draw out narratives of why residents value their neighbourhood and how they want it to grow and change" (cityecology.net). Something Collective wants to hear from the Sunset community as they secure participants for their project. The artists at Something Collective can be reached at somethingcollective.ca where more information is posted about their other projects and planned activities.

Something Collective has also received $12,000 from Vancouver's Artists in Communities program, to pursue another interdisciplinary, community-mapping project with neighbors of the Renfrew Community Centre. In Our Footprint, Something Collective will use audio, visual, choreographic and environmental mediums, to facilitate a process that will enable the Renfrew community to track how they interact with their environment, using all five of their senses.
Captain Creative premiere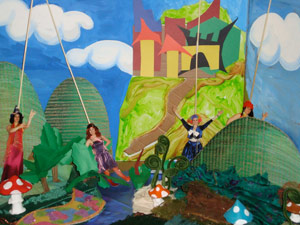 Finally, after a vibrant celebration of Something Collective's Incubator Residency at Moberly, on Nov. 20th, these artists presented their second open studio on April 27th.
This involved sharing their interactive performance piece, Captain Creative, with students from Sunset schools. This arts advocacy fairy tale uses dance, music, film, puppetry and print making to demonstrate the value of art in our society. Keep checking somethingcollective.ca for more information.
Art for Social Change Film Festival at VanCity Theatre, June 11-15, 2012
Instruments of Change, in partnership with VanCity Theatre and the Vancouver International Song Institute, co-produced Arts of Conscience, an Arts for Social Change Film and Speaker Series, from June 11-15, 2012. The second annual symposium will take place in June 2013.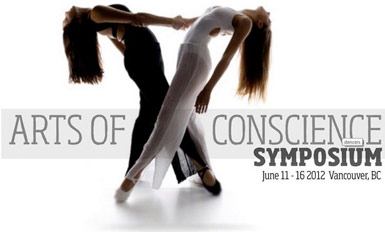 © 2012 INSTRUMENTS OF CHANGE